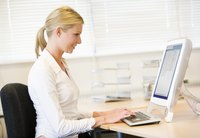 The project schedule directly addresses one of the three major components of any project: time. The purpose of the project schedule is to outline start and finish dates for project activities. The project schedule is a living component; as elements of a project change, so too must the project schedule. However, as with many projects, the original project schedule is referred to as a baseline when schedules expand and contract.
Things You'll Need
Incorporate information found in your project scope statement. This document identifies constraints and other factors that may affect the development of the project schedule. Examples include project objectives, deliverables and specifications. For example, if your project requires the creation of a new brand of wine and the wine must sit in oak-made casks for a year before bottling, this information directly impacts the creation of the project schedule.
Factor in date-sensitive requirements when creating the project schedule. In many cases, whether from internal pressures or external sources, the project manager must take into consideration hard and fast time constraints. For example, in order for the project to stay under budget, the project manager must complete it before the end of the calendar year for tax purposes. The date for tax calculations is imposed by the federal government and must be factored into the creation of the project schedule.
Take the contents of the project management plan into consideration in the creation of the project schedule. The project management plan consists of the schedule management plan, cost management plan, project scope management plan and risk management plan.
The Project Management Institute defines the above plans as follows: The schedule management plan establishes criteria and the activities for developing and controlling the project schedule. The cost management plan sets out the format and establishes the activities and criteria for planning, structuring and controlling the project costs. The project scope management plan describes how the project scope will be defined, developed and verified and how the work breakdown structure will be created and defined. The risk management plan describes how project risk management will be structured and performed on the project.
With the above information, the project manager is equipped to create a schedule that will give him a realistic view of what to expect for project duration.
Create a WBS (work breakdown structure). This document is a hierarchical list of work to be completed by the project team in order to achieve success in meeting project goals and deliverables. The WBS is where the project manager can see the real detail of what needs to be done. Further down in the WBS are what are called "work packages," which are simply a grouping of detailed tasks that need to be accomplished. The key with the WBS is this is where the project manager can see what work packages need to be completed at what times and what impact one package has upon another as it relates to scheduling.