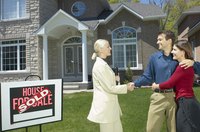 Property easements are encumbrances on the title of the property affected. An easement effectively transfers ownership of a portion of a parcel of property to another party.
An easement may be utilized to give a neighbor access to a well site or common driveway on your property or may be granted to a public entity by eminent domain or to comply with legislative or administrative regulations.
Whatever the purpose of the easement, it is important for property owners to know the value of the easement on the property and to be able to obtain an accurate appraisal of that value.
Things You'll Need
Accurate description of the entire property
Accurate description of the easement to be appraised
Property records for comparable properties
Obtain an accurate description of the property to be included in the proposed easement from the party hoping to secure the easement.
Confirm that the proposed easement will affect the property in question by comparing the proposed easement to the description of the property.
Determine the value of the affected property as a whole parcel. Use the values of comparable properties to help assess the market value of the affected property.
Divide the total market value of the affected property parcel by the total number of square feet contained in the parcel to obtain a value for your property per square foot.
Calculate the square footage of the property affected by the easement.
Multiply the square footage of the easement by the per-square-foot value of the property to provide the market value of the easement.