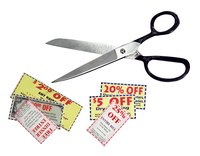 If you have a knack for clipping coupons, collecting popular magazines or clipping newspaper articles, then you could turn your hobby into valuable dollars. There is money to be had by collecting and cutting coupons. Coupons can be clipped for services, food or discounts on store merchandise. Some brands of magazines publish popular issues that are collectible and can be used to earn money. As cutting-edge news stories hit the papers, articles can be collected as artifacts and sold for valuable dollars.
Here are a few tips to get you started on making money with magazine and newspaper clippings.
Things You'll Need
Clip coupons from any paper you receive. Sort your coupons by brand or manufacturer. If you can get extra copies of the paper from friends, ask for them. Coupons can be sold or traded online for money or other coupons you can use. EBay offers auction services that can be used to sell your coupons for money. ECoupons.com allows you to register and trade coupons with other registered members. A coupon you don't see as valuable can be valuable to someone else. Some grocery stores double or triple the value of the coupon used, which means big bucks saved for buyers of coupons.
Buy extra copies of magazines or newspapers that are memorable. If an event occurs that will be always remembered, the issues are commonly collectible and will be worth more money then their face value. Buy extra copies of magazines or newspapers that have a valued reputation for credible information. Even today "National Geographic" magazines fetch good money for issues sold as short as a few years ago. To protect your magazines, you can put important issues in protective plastic sleeves. Sell your copy in the sleeve so the buyer can see how you preserved the integrity of the magazine. You can either clip important articles or sell the entire copy.
Look for articles to clip in magazines or important newspapers like "USA Today" or the "New York Times." Selling articles or the entire paper may take a bit of research to establish value, but issues related to important world events can be worth big money.