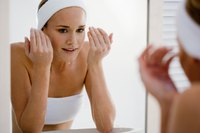 Blackheads occur when dirt and grime get stuck in facial pores. There are multiple ways to remove blackheads including squeezing the pores, exfoliation, beautician pore cleaners, harsh chemicals and essential oils. Essential oils are an effective and safe way to remove blackheads. Tea tree oil is the most common essential oil used in the removal of blackheads. It can be purchased at any pharmacy inexpensively and is safe for people of all ages.
Things You'll Need
Loofah sponge
Facial soap
Massage your face gently with a dry loofah sponge. Use circular motions and focus on the areas that contain blackheads.
Wash your face with a gentle facial soap. Leave the soap on your face for at least 30 seconds before removing. Use a clean towel to pat dry your face. Do not reuse the towel on your face.
Apply four drops of tea tree oil to the problem areas daily. You will see positive results within two weeks.