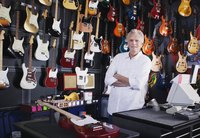 Starting a guitar store differs little from establishing any other small business. However, brutal pricing competition and increased loss of market share to online sellers make it difficult to become profitable immediately. Satisfying unpredictable public tastes may also not suit every would-be guitar retailer. In light of these challenges, careful planning becomes crucial to avoid joining the ranks of failed entrepreneurs.
Things You'll Need
Business cards
Business plan
Cash register
Credit line
Guitar inventory
Promotional materials
Rented or leased retail space
Security system
Website
Zoning permit
Study Your Competitors
Study your competitors to see what makes them successful. Don't limit yourself to retail music stores, since consignment shops, electronics outlets and pawnbrokers represent equally fierce competition for local dollars. If your area supports several stores, you'll have to think hard about what makes yours distinctive enough to succeed.
Write a business plan outlining what makes your store special, what you plan to offer, and when you expect it to become profitable. This document need not be complicated, but should offer a clear vision for bankers or other investors that you're courting to help support your business.
Consult your local banker to determine financing options for the new business. To build trust, start with small loans that you can repay quickly. Over time, you'll establish a track record that will help secure the revolving credit lines you'll need to survive the inevitable ups and downs.
Double-check all building codes and zoning laws, which will affect your location choice. Before signing any lease, make sure your building or storefront space has been thoroughly inspected. Failing to take these steps can result in fines and headaches from floods, leaks and non-working utilities.
Location, Location, Location
Heed the real estate agent's mantra of "location, location, location." Great deals in low-rent neighborhoods mean nothing if your customers don't feel safe. Similarly, a prime spot downtown is pointless, if parking is impossible, so make sure your facility has at least some of its own space. A location close to local clubs where bands frequently play is a consideration.
Don't depend on volume sales to drive business, since chain stores get heftier discounts that enable them to undersell their competition. Instead, consider opening your space for lessons, guitar repair, training (such as using equipment, especially recording equipment), performances and other special events to build customer loyalty, and name recognition. This also expands you sources of income to more than just guitar sales.
Keep customers' immediate gratifications in mind when designing your new store. Put "big ticket" items upfront, where customers are more likely to see them, and make an impulse purchase. Leave less profitable items in the back.
Reduce the risk of employee theft and burglaries through tight security methods. Keep cash registers in a conspicuous spot, preferably upfront, and invest in an alarm system. You won't stop every loss, but leaving yourself wide open makes no sense.