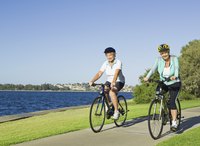 Biking is an excellent way to stay in shape while exploring local areas and communing with nature. With many biking enthusiasts eager to find new paths to explore in and around their local area, a bike rental business can become very profitable. There are a few items to consider when starting a bike rental business.
Things You'll Need
Check your local area's biking opportunities by scouting local parks, recreational facilities, and landmarks of interest. This will allow you to make sure that there are interesting places for your soon to be customer to explore while biking.
Purchase bicycles and other biking gear to begin building your inventory. To start a bike rental business it is a good idea to carry a variety of bicycles and biking gear that you can offer your customers. The bikes should generally be in newer condition, and have safe tires. A clean and safe bike is what your customers are looking for. By visiting your local bicycle or retail store you will be able to find a variety of men and women's bikes, helmets, and other biking accessories.
Find the right location to set up your bike rental business. Scout areas that have a high volume of traffic, and are within close proximity to local landmarks and/or biking trails. This will allow you to gain access to customers that are patrons to nearby stores, and offer them easy access to biking activities and other recreational landmarks. There are many different ways in which to present your business. Renting or buying a storefront is one of them. Other bicycle rental services also present their store in a kiosk style, allowing them to be situated even closer to biking trails or landmarks. If you decide to open a kiosk style bike rental store, check with your local state government for licenses or fees associated with this type of business presentation.
Set your prices. The average going rate for bicycle rentals is $25 an hour, $60 a day, or $150 to $200 a week. Keep in mind; rates can vary depending on the type of bicycles and equipment you rent, and the community in which you live.
Advertise. Make postcards and fliers to help keep your advertising costs down. On the flier or postcard include your business name, phone number, and services offered. Make sure the postcards are bold and easy to read, and list nearby landmarks or paths they can explore by your new business. You can place the cards or fliers at local recreational facilities, shopping centers and coffee shops, which typically have high volumes of customers. Other ideas could include advertising in your local newspaper or tourist magazine.