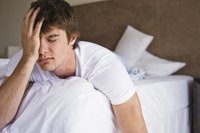 Kidney stones are deposits of minerals and acid salts that form a hard mass in your kidneys and may also affect your ureters, bladder or urethra. Small kidney stones generally pass from the body through the urine; larger stones may require medical intervention. There are several steps you can take to avoid kidney stones, including avoiding dehydration and changing your diet; however, once you have a kidney stone, the only home remedy is to drink plenty of water to help flush the stone from your system.
Types of Kidney Stones
There are four main types of kidney stones. Calcium stones are the most common, formed by deposits of calcium oxalate, which is found in vegetables, fruit, chocolate and nuts. Struvite stones are fast-growing and generally form in response to a urinary tract infection or other type of infection. Uric acid stones form as a result of dehydration and are most common in people who eat a lot of protein or in those who have gout. Cystine stones are caused by a hereditary disorder in which the kidneys excrete excess amino acids.
Symptoms of Kidney Stones
Symptoms of kidney stones generally don't appear until the stone begins to move around in the kidney or passes into the ureter, which connects the kidneys to the bladder. Once this occurs, the most common symptom is side and back pain that often spreads to the lower abdomen. Other symptoms include pain when urinating; strong-smelling urine that's pink, brown or cloudy; nausea or vomiting and, in cases where the kidney stone has caused an infection, fever and chills.
Home Remedies
Most kidney stones will pass on their own, with a little help from you. Water will help flush the stone from your system. Drink as much water as it takes to produce clear urine, but don't exceed 96 ounces a day.
When to Call Your Doctor
Some kidney stones may require medical intervention. Make an appointment with your doctor if your pain becomes intolerable or if you have difficulty urinating. These are indications that the stone is too large to pass naturally. Your doctor may prescribe medication to help break up smaller stones; removing larger stones may require sound wave therapy or surgery. If you experience pain with fever and chills, you may have an infection that requires medical attention.
Preventing Kidney Stones
You may be at a higher risk for kidney stones if you have a high-protein diet or eat foods that are high in sodium. If you are overweight, have a digestive disorder or if someone in your family has a history of kidney stones, you may be more likely to develop them. To help prevent kidney stones, drink plenty of water every day to keep your urine clear and odor-free, especially if you live in a warm climate or perspire a lot.