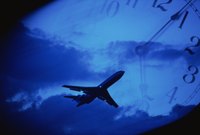 The disparity between your internal body clock and the new time zone when you travel is called jet lag. It can wreak havoc on all of your body systems. You'll have to go through an adjustment period to overcome jet lag, and you can help ease the transition by taking care of yourself in several ways.
Get plenty of rest. Try to get a good night's sleep before you travel. This will help you feel energized and refreshed on your trip. Don't oversleep though. If you do this, you will feel just as tired and exhausted during the trip.
Make it a point to stretch and keep your body limber. This will help circulation throughout your body and prevent muscles from stiffening up. It also will help fatigue.
Replenish your system with vitamins and minerals. Be sure to take Vitamin C to give your immune system an extra boost and B vitamins to give you more energy. Also, drink plenty of water to stay hydrated.
Go out in the sun. The sun's rays will help increase your alertness and wake you up. The sun will give you more energy when you are on a trip and make you more aware.