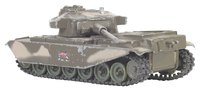 Of all military vehicles, the combat tank is arguably the best-known. With literally hundreds of design permutations across dozens of militaries the world over, one combat tank handles much like the next: like a huge, unbelievably heavy metal box on treads. There are enough sources of information available to civilians to acquire a basic idea of how to operate a combat tank, but as to what you'll do once you're in one? That's a question we'll leave to you to answer.
Open the driver's hatch of the tank and climb inside. Situate yourself and adjust the seat so that you are able to see through the forward viewing slot by sitting at a 90-degree angle. Your right foot should be able to press the gas pedal to the floor without over-extending your leg, and the two brake handles and the shifter should be able to move through their full ranges of motion without overextending your arms.
Pull both brake handles toward yourself as far as possible, and turn on the tank's engine. Shift your tank into first gear, and ease the two brake handles forward simultaneously. The vehicle should begin to move forward slowly, picking up speed as you move the brake handles further forward.
Turn your tank by pulling slowly backward on the right handle to slow the right tread only (and thus turn the tank to the right), and pulling the left handle to slow the left tread, and turn the tank left. A sharper pull on a brake handle will create a sharper turn, and a gentler pull is better for smoother turns.
Operate your tank's main weapon (only available in some models) by pulling both brake handles back to stop the tank. Then lean back to a 45-degree angle so that you are eye-to-eye with the firing periscope. A control-handle with a trigger on it should be immediately apparent, as well as a safety switch. When you are ready to fire, line your target up in the periscope's viewfinder, and release the weapon's safety. Military protocol dictates that you warn anyone in the tank with you that you're about to fire. Pull the trigger.