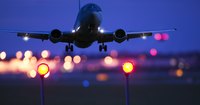 Upgrading from coach to first or business class can make your flight much more comfortable and enjoyable. There are several ways to receive an upgrade on American Airlines: You may may receive a complimentary upgrade, purchase an upgrade, or use frequent flyer miles to acquire an upgrade.
If you are an American Airlines Executive Platinum member, you can simply request a complimentary upgrade. Gold members may request an upgrade if the original ticket was a full fare economy class ticket. Available upgrades depend on seat availability.
If you do not quality for free upgrades, you may purchase an upgrade. American Airlines sells upgrades in 500-mile segments. You may purchase these online, over the phone or at check-in. You will need to purchase one upgrade per 500 miles and for each flight segment.
If you fly frequently and have accumulated enough AAdvantage miles, you can redeem them for a free upgrade. Check the upgrade award chart to determine how many miles you need. Your original ticket will have to be a full fare economy ticket, and upgrades are subject to availability.