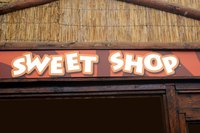 Whether you need a sign for your business or one for your home, nothing beats making your own sign by hand. Making the sign by hand allows you to inject your personality and taste directly into the project, making the sign say more than the words you print on the surface. If you need something like a decorative welcome sign for your home, you can share the project with some of your loved ones. Choosing to make your own sign instead of visiting a sign production company can also save you some money.
Things You'll Need
Paper
Pencil
Redwood plank
Sandpaper
Primer
Paintbrush
Stencil
Spray paint
Acrylic paint
Wooden signpost
Drill
Screws
Determine how large you would like your sign to be. Once you know the size of the sign, you can determine the size of your text and images you include.
Create a sketch of the sign that is to scale. Include any text and images you want on the actual sign so you can ensure that they fit. It may take several sketches to fully develop your sign design.
Cut a board of paint-grade redwood to the measurement specifications of your sign. Sand down the edges and the face of the sign using 60-grit sandpaper. Sand it down until the face and the corners of the wood are smooth.
Dust the sawdust off the surface of the wood. The sawdust will interfere with the painting process.
Coat the face of the sign with a primer that contrasts visually with the color of the text and the images you want to include. This will block out the color of the wood and make the pictures and text jump off the sign. Wait until the primer completely dries before you continue.
Paint the sign design directly on the face of the sign. If you need stencils, use spray paint. If you need a freehand look, use a paintbrush and acrylic paint.
Drive a stake into the ground where you will post your sign. Drive it into the soil deep enough that it can stand on its own.
Hold the sign against the signpost. Drill one screw through the face of the sign 3 inches from the top and directly into the signpost. Drill another screw through the sign and into the signpost 3 inches from the bottom of the sign.