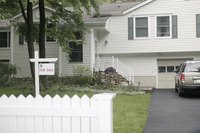 Some homeowners rent their houses as a way to make a living; others do it because they can't sell and have to move. Either way, ideally you will want to get a monthly cash flow from the rental and enjoy some tax benefits. Provided you take care of the house and didn't pay too much for it in the first place, a good rental unit will appreciate in value. Bankrate advises that the monthly rent should be about 1.1 percent of the house's value, but there are other considerations to think about that may or may not support that number.
Check the HUD Fair Market Rent Documentation System at huduser.org. Click on the current year's data and search for your local area. You will see the U.S. Department of Housing and Urban Development's estimation of fair market rent for efficiencies and one- to four-bedroom units. If you are doing a rent-to-own deal, the rent must be higher than the HUD number or the tenants' mortgage bank will not allow them to apply part of the rent to the purchase price.
Check the local classified ads to find out what other houses in the area are renting for. Do drive-bys of at least some of them to be sure that the houses you are reading about are comparable. A house next to a gas station is not going to fetch what a house in a strictly residential neighborhood can get.
Call a rental management company and ask what the rent is on a house of the same size and condition and in the same or a comparable neighborhood. If you are thinking of having a rental company handle the day-to-day business of being a landlord for you, have a representative look at your house to give you a more accurate assessment.
Calculate your annual costs, including mortgage, taxes, insurance, management, trash removal and maintenance. The maintenance should include yard work and a repair budget. Divide by 12 to get your monthly cost. The rent you arrive at has to cover all of your expenses and stay at a price that the market will bear.
Weigh your findings against either your own or a rental manager's objective assessment of the planned rental. Although you don't need to set a low rent, shooting for top dollar on a middling house may cost you dearly--remember that you have to pay the mortgage, taxes and insurance even if the house is empty. You may also have to pay for heat to prevent freezing pipes.