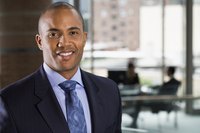 Attaining the title of chief executive officer, or CEO, seems farfetched to most. But with the right strategy, attitude and skills, it is completely within your reach. Whether you're just getting in game or you're on deck for the position, knowing how to act like a CEO will get you there. Adopting crucial characteristics of key players will help you reach the top.
Look the part. Take pride in your appearance. Make sure you are polished, well-groomed and always dressed appropriately. Observe what executives are wearing in your industry and dress like they do. While it takes more than looks to win the role, a sharp appearance puts you a step ahead.
Change your mindset. Instead of thinking about yourself as a singular entity and how the company can benefit you, think about how you can benefit the company. As a CEO, your actions affect the lives of others. Put in the extra effort, work extended hours and make decisions that have long-term positive benefits for the company as a whole.
Set initial goals. These should include such things as standardizing a process, creating a user-friendly system and improving overall function quality. Such achievements will gain recognition and land you a management position.
Up the ante. Look for units that are suffering or where revenue numbers are particularly low. Take it upon yourself to focus these units, implement a plan of action to produce positive results and follow through. Make sure that goals are achieved and employees are positively reinforced for their efforts.
Rise to the top. Tackle a crisis or bring your company out of debt. Create a department or restructure teams. Do something that is high-risk. Make sure you do extensive research and background checks beforehand and then take on the task full force. Big players need to make big moves. You will ultimately gain stature and be rewarded for your work.