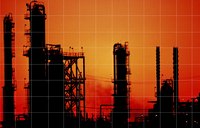 One of the most traded commodities in the world is oil, and each day some of the largest trading institutions buy and sell billions of dollars worth of it. For aspiring traders seeking their fortune, it can be intimidating to trade against these institutions because many would-be traders don't understand the market for crude oil. Here are some insights into how crude oil is traded.
Oil Trading for Beginners
Go to a computer and log on to a commodity charting service such as TradingCharts.com, which is free. Look to the left of the screen on the homepage and click the "Commodity Charts" tab and then click the daily price chart selection for the New York Mercantile Exchange crude oil futures.
Observe and take note of the "Trading Volume" indicator at the bottom of the chart, which will reveal if any given trading day in oil is under accumulation. An accumulation day means the price has moved up 1 percent or greater on larger volume than the previous trading day. When crude oil futures are registering such trading days, that means traders are aggressively buying them.
Scan the 20-day SMA (simple moving average) and overlay the indicator on the volume levels at the bottom of the screen. The 20-day SMA is the average of the last 20 days' closing volume levels and will give a visual representation of the flow of buying and selling volume. Rising volume and a rising 20-day MA means that more buyers are entering a position in the crude oil futures, driving prices higher.
Mark down and take note of accumulation days in oil. By keeping track of the volume on the crude oil futures contract and whether it is being bought up or accumulated, you will deduce whether the market is likely to continue its bullish trend.