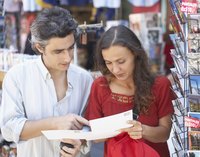 Selling photo cards can be a challenging but rewarding way to profit from your photography. Your photo cards will need to appeal to a wide audience and offer a unique and interesting image on a quality card that a buyer will want to use to send to a friend or collect for himself. This article will provide you with steps to sell your photo cards through a gift shop or through an online auction site. See the links in the "Resources" section to get free counseling and advice on improving your sales.
Sell Your Cards At a Gift Shop
Identify gift shops in a given area. This may be the area you took the photos if they have a local appeal (for instance, if they feature local landmarks or tourist destinations) or it may be in your local area if your photo cards have a wide appeal.
Visit these gift shops and see what they sell. You will want to pay particular attention to the cards they sell.
Decide if you want to sell in this shop. It may not hurt to sell in as many shops as you can, but if you don't feel they are targeting the market that would be buying your cards, you may be better off finding a different store to sell your cards. If you choose to sell in this shop, continue to Step 4. If not, visit the next shop on your list.
Ask to speak with the manager or owner. These individuals will most likely be decision makers in what is sold in the store or can refer you to those who are.
Negotiate an arrangement to sell your photos in the shop. This may be on a consignment basis where the shop owner will keep a percentage of each sale (for example, 30%) of your cards, or they may be willing to purchase your cards for sale at a wholesale price (for example, 50% of the retail cost).
Monitor the sales of your cards by calling the store manager or owner or stopping by the shop. If the cards are not selling as well as you would like, discuss strategies with the store owner or manager on how to get better placement for your cards in the shop, lower the prices or change the types of cards you are selling.
Sell Your Photo Cards Online with an Online Auction Site
Select an online retailer such as eBay, eBid, or OnlineAuction. These websites provide an existing market of potential customers and allow you to easily list, ship and receive payment for your cards. Selling through an established website allows you to sell your cards direct to your customers without the overhead of selling through a retail store. See Resources for reviews of the top ten online auction sites.
List your cards for sale. To make your cards appealing, create sets of a variety of cards with images that are complimentary (such as humorous scenes, views of horses, breathtaking vistas). You can choose to sell with an auction feature so buyers can bid up the price or set a fixed price to sell your card sets.
Monitor the activity of your listings. If you are not selling as many as you would like, you may need to reduce your pricing or increase the cards sold in each set.