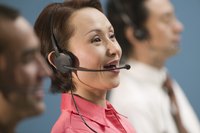 Customer complaints are inevitable in almost any company that interacts with the public on a regular basis. From product complaints to service-related complaints, customers like to express their frustration based on a discrepancy between their expectations and their actual experience. Successful companies establish a customer complaint process that helps retain the customer, prevents negative publicity and helps improve company processes and customer service. While unhappy customers can be challenging to manage, the right attitude and company policies can turn a negative situation into a positive outcome.
Create a simple feedback mechanism for customers to lodge complaints. Allow customers to contact your company through mail, email, fax and by phone. The easier the contact process, the more likely you will know about valid complaints and the less likely you are to lose customers.
Establish a routine escalation process. This process should encompass all types of customer complaints, including emergency situations, with guidelines and contact information. Provide this information to all employees who may encounter customers, customized according to their rank. For example, a customer service agent should direct escalations to their manager rather than the information technology department.
Devise a tracking mechanism. Successful management of customer complaints requires directing and managing complaints effectively. A tracking system not only provides a real-time way of processing complaints in an efficient manner, it also provides helpful data for longer-term analysis and review.
Put stop procedures in place. Some customers may be impossible to please and may routinely lodge complaints merely for their benefit. Establish procedures for when to stop escalations and stop providing out-of-bounds assistance to unreasonable customers. For example, require unreasonable customers who want to escalate complaints beyond the immediate manger to provide their request in writing. This provides a mechanism for a true customer concern, but discourages frivolous complaints.
Monitor customer complaints for trends or patterns. Similar complaints from multiple customers can be an early indicator of a wider business problem that you need to address. The best process for customer complaints is to prevent them from occurring.
Train all levels of employees on proper customer complaint management. This training should empower employees to resolve issues quickly and needs to provide helpful diffusion dialogue training that can help employees calm irate customers.