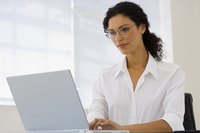 PayPal allows individual sellers to transact business online without having to set up costly and complicated merchant and credit card accounts. Even large vendors such as Amazon and eBay have embraced the service for its ease of use and efficient payment processing. If someone wants to pay you through PayPal, you can leave it to him to discover the procedures for transferring cash. Or you can make it easier for him to do so by sending a payment link.
Click the "Request Money" tab on the PayPal website.
Click "Create a Money Request," if needed, to display the "Request Money" form.
Enter the email of the person to whom you want to send a link.
Enter the amount you are requesting and choose the type of currency, such as "U.S. Dollars," from the drop-down menu. Note that foreign currency transactions incur a fee.
Choose whether you're requesting a payment for goods, services or non-eBay auction items.
Click "Continue" to send an email to the recipient. That message includes a payment button that the recipient can click to pay instantly through PayPal.