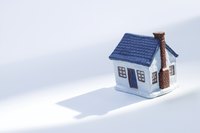 Homeowners insurance is available through independent local insurance agents or large companies like Geico, StateFarm or AllState. Since your home is one of your most treasured investments, protecting it against potential disaster is vital to achieving piece of mind. Insurance policies may cover damage to your home, personal property or damage to any other permanent structure that is on your property. If you have filed a claim with your homeowners insurance company and received a denial, the following steps may help you fight for your right for reimbursement.
Things You'll Need
A copy of your homeowners insurance policy
Documentation of the damage
Check your policy. Before you fight for your insurance carrier to cover your claim, be sure that your policy includes it. All coverage is not the same and some policies may limit the specific types of items that you can claim or contain specific requirements to have certain claims covered.
Gather documentation. Pictures of the damage and a copy of the police report (if applicable) can help to substantiate your claim. Even if you submitted this with the original claim, submit it again with your appeal.
Prepare a written explanation about why your claim should be covered. Cite specific phrases from your homeowners insurance policy's terms and include details outlining the denial and the coverage requested in your original claim.
Call your insurance company. Ask if there is a specific appeals department or if you should submit your appeal to the adjuster working on your claim. Knowing where to send the paperwork can help to eliminate confusion and unnecessary waiting time.
Consider speaking with a lawyer. If your claim is denied after your appeal and you have documentation to substantiate your claim, obtaining legal advice might put you on the road to resolving the dispute. Save this step for a last resort, though. Once you hire a lawyer, your homeowners insurance company will deal directly with your attorney, taking you out of the equation.