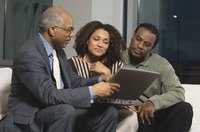 SingTel, the common name for Singapore Telecommunications, provides Internet access, television programs, mobile phones and landlines to more than 200 million people. It is the largest company on the Singapore Exchange, and the majority of its shares are owned by a division of the Singapore government. Buying shares of SingTel is more difficult than buying a domestic stock but can be done in a variety of ways.
Things You'll Need
Contact your financial planner if you purchase stocks through a professionally created account. Make sure your stock broker deals with foreign stocks; some do not. You may need to go through a large company with an international division, such as Charles Schwab's Global Investment Services. Alternatively, you can directly set up a brokerage account in Singapore to purchase SingTel shares.
Check with your financial planner about increased commission fees from buying a stock on a foreign market. Also inquire about the minimum dollar investment required.
Buy through an online brokerage firm. Instead of using the Singapore Exchange symbol, you can buy SingTel shares using the U.S. pink slip symbol- SGTCF. Online brokers such as E-Trade, Zecco.com, and Scottrade all allow you to purchase SingTel shares on the over-the-counter market.