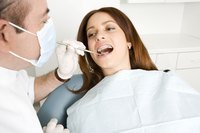 Chipped teeth in dental bridges usually can be repaired with dental bonding; a procedure performed by a dentist or cosmetic dentist in which a tooth-colored resin is applied to the chipped tooth. The resin hardens with the use of a special light and bonds to the tooth. Bonding can last up to 10 years (about the length of time a dental bridge lasts) before it needs replacement or touch-up.
Tooth bonding is used for smaller defects on one or two teeth. If your bridge is damaged to a greater degree, your dentist might suggest that you replace the bridge.
How to Repair Chipped Teeth in a Dental Bridge
Visit your dentist or a cosmetic dentist to have him assess the damage to your dental bridge.
Check with your dental insurance company, because the cost of repairing your chipped bridge might be fully or partially covered. Costs can range from $100 to $400 a tooth.
Ensure that the color of the resin matches that of the other teeth in your bridge. Your dentist should be able to show you colors from which he can choose to bond the chipped bridge.
Ask your dentist if you can wait while the procedure is being done. It should only take about two hours. The tooth will be etched with a solution to create small crevices in the surface. The resin will be applied to the tooth, and a high-intensity light will be shown on the tooth to harden the resin. More than one coat of the resin might need to be applied.
Don't eat hard or chewy candies, ice or anything that can damage your bridge.