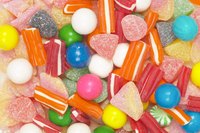 Sugar produces a short-term rush, but with long-term consequences. It doesn't just deteriorate your tooth enamel, it deteriorates your health. Sugar can lower your immune system, increase obesity and even lead to depression. Here are some simple tricks to curb your sugar cravings and keep your health in check.
Things You'll Need
Gymnema sylvestre extract
Dark chocolate
Eat regularly. Eat five to six small meals throughout the day to reduce cravings. Choose foods that are rich in protein and fiber to keep your body nourished and full. Consistent eating will keep blood sugar stable, and keep your sweet tooth at bay.
Brush your teeth. The minty aftertaste will distract your buds and tame your cravings. Also, brushing regularly will keep your chompers cavity-free.
Chew on a leaf. Gymena leaf extract, or gymenic acid, decreases the pleasant taste of sugar and blocks its absorption into the body. Gymenic acid has a molecular structure that resembles that of sugar. Upon consumption, gymena fills the sugar taste receptors and prevents them from being activated by sugary substances. Gymena also decreases the taste of artificial sweeteners saccharin and clycamate.
Look behind the craving. Pay attention to the emotions you feel when you get the urge to eat sweets. Is it during moments of stress? Sadness? Loneliness? Recognize where your craving comes from and explore healthier ways to deal with these emotions.
Still got that hankering? Eat one small piece of dark chocolate. Dark chocolate, consumed in moderation, can be a good source of antioxidants, and it can lower blood pressure. Just make sure not to overdo it!