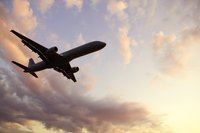 With travel being stressful enough, no one wants the hassle of having to change the time of a booked flight before a trip. But the combination of flights booked far in advance and the unpredictability of life sometimes makes a change necessary.
Unfortunately, changing a flight time is not as easy as it sounds. Anyone can do it if another flight for your itinerary is available, but with the exception of some airlines, changing a flight will cost you both money and time. If it's absolutely necessary to change the flight time of a booked itinerary, these simple tips will ease the process.
Things You'll Need
Flight itinerary
Confirmation number
Ticket number
Credit card
Know your airline's flight-change policy. Most airlines in the U.S.-–with the exception of Southwest Airlines-–view your flight change as a change in the ticket, and require you to pay a fee on top of any fare difference between the previously booked flight and the new flight. Some, like Delta, have flexible policies if you change a flight time on the day of travel, but still require a fee-–Delta's is $50-–to confirm a reservation on a different flight. Be familiar with your airline's policy before you even pick up the phone or go online to make the change so you don't get sticker shock.
Before you call the airline, have your confirmation number, ticket number and the credit card you used to book the original flight handy. These are all things you will need to make the change, and having them nearby will make what can be a tedious process go that much more smoothly.
Do your homework. Go online and check if there is a flight available for your itinerary on the time and date you're targeting before you call the airline. So when you call, you can expedite the process by telling the customer service agent which flight you'd like to take. Many airlines allow you to make the change online, paying applicable fees with a credit card.
Be flexible. If you want to fly an earlier flight on the same day, many airlines will allow you to fly standby with no charge. Call ahead and ask the airline what the flight load is on the flight you'd like to catch, or check the flight schedule online and go to the airport early enough to try to fly standby on another flight. If there are many open seats and you're high enough on the stand-by list, chances are you will be able to catch that flight without a problem.