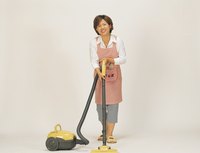 Fleas on dogs and cats can be difficult to eliminate. Oral and topical medications can help rid your pet of fleas, but flea eggs left in carpeting and upholstered furniture will often hatch after your pet has been treated, causing a reinfestation. Sodium borate, commonly known as borax, is a safe, effective treatment for killing flea eggs in carpeting and upholstery. Killing the eggs will help banish fleas for good.
Things You'll Need
Sodium borate powder, commonly sold as borax
Sprinkle borax gently on carpet, as well as on and underneath furniture cushions. Avoid creating clouds of borax dust, which can cause irritation if inhaled.
Let the borax sit for 24 to 48 hours. The borax draws moisture out of the eggs, killing them.
Vacuum the carpet and furniture. Borax particles will work themselves down deep into fabric fibers and remain as an active ingredient there for up to 1 year, providing extra protection.
Dispose of the vacuum cleaner bag. Fleas and their eggs can survive inside the vacuum bag and escape, so not disposing of the bag properly can lead to reinfestation. Burn the bag or secure it in a plastic garbage bag and place it in a covered trash can outside your home.