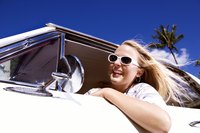 When you're planning a driving trip it is important to know the weather conditions you'll be facing. You'll know whether to expect roads that are dry, wet or icy--conditions that will affect how long your drive will take. Fortunately, Internet access makes it easy to get this information.
Investigating the Weather Conditions
Use your Internet browser to go to weather.com. It is best to do this on the morning of your trip because weather forecasts for the near future are more accurate.
Enter the ZIP code or name of the city from which you are departing into the "Search" bar at the top of the website. Press "Enter." If multiple city options are presented to you, choose the correct one. The website will display information on the present weather conditions in that city.
Scroll down the page until you see a box on the right side with information about "Today," Tonight," and "Tomorrow." Click on "Today." The website will display hourly information about today's weather forecast for that city.
Repeat the previous steps for the cities you'll pass through on driving trip. Estimate when you'll be going through those areas and write down the predicted weather conditions for those times.
Combine the information you have gathered and you will have a good idea of the road conditions you will encounter and how much time your drive will take.