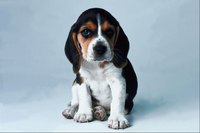 Puppies of all breeds can be rambunctious, especially during their first year. Their high energy levels and curiosity can get them in trouble. By building a puppy play pen, you can keep your puppy safe and happy. Build a puppy play pen that is easy to move, take down and add on to with PVC pipe.
Things You'll Need
PVC pipes
PVC pipe cutter
Marker
PVC crosses
PVC corners
PVC T-connectors
Mallet
Newspapers
Blanket
Dog bed
Place mat
Measure the PVC pipe. You want an equal number of 35-inch pieces and 46 1/2 pieces. Each layer of play pen will need two of each sizes. Mark your PVC pipe with a felt marker. Cut the PVC pipes with your pipe cutter.
Attach a PVC cross to each end and a PVC corner to the crosses. Set the first layer on the floor to make sure that it is stable. Use a mallet to tap the corners and the crosses.
Build on each layer that you make. The top layer should have T-connectors instead of crosses.
Place your play pen in its designated area. Set newspapers down at the bottom. Give your puppy an old blanket or dog bed to stay warm. Lay a place mat down for water and food so it won't get the newspaper wet.