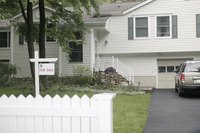 Buying a home on a land lease requires some research for the buyer. A land lease is when the land underneath the home is owned by someone else. Most land lease contracts last for 60 years and are usually automatically renewed, but there can be glitches which can be problematic for the individual buying the home that sits on the leased land. Certain steps need to be taken to protect the home owner.
Check the land lease terms. Sometimes the lease has restrictions about what can be done to the land. For example, trees that are currently on the property might be protected by the lease, so even if the tree is threatening the home or is just a nuisance, the homeowner would need to get specific permission from the landowner before proceeding with any corrective action.
Make sure the home mortgage finance company is aware and agreeable to the land lease contract. According to the Wall Street Journal, getting financing for homes built on leased land can be difficult. Most mortgage companies and banks require that the lease not be renewable for at least 10 years. Other require the lease contract to be as long or longer than the length of the mortgage. It is important to know which stance your lender is taking or the home loan could be in jeopardy.
Insist the lease be transferable or you as the homeowner has first option to buy. In the event the land owner decides to sell the land, make sure you have first option to purchase the land. If you are not in the position to buy the land, make sure the lease and all terms are transferable to the new land owner. In other words, be sure that the new land owner cannot order you off the property or order the home razed so he can use the property for something else.