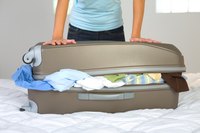 Airlines have policies as to what size luggage you can take on the plane for free. Sixty-two linear inches is a common checked-bag restriction in the U.S. Forty-five linear inches is a common carry-on bag restriction. Exceeding the measurement can trigger your having to check a bag or having to pay a fee.
Retract the handle fully. Recess the wheels, if possible. You want these figuring into your measurement as little as possible.
Measure the width, height and length of the baggage in inches. Include the wheels and handle in the measurement. Include the bulging sides in the measurement.
Add the three measurements together. The sum is the bag's measurement in linear inches.