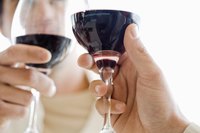 Creatinine is a breakdown product of creatine, which is an important component of energy production in muscle. About 2 percent of the body's creatine is converted to creatinine every day and transported to the kidneys via the bloodstream where it is filtered from the body as urine. Because muscle mass remains fairly stable from day to day the amount of creatinine in the blood should remain stable as well. The kidneys maintain the creatinine level within a certain range as long as they are functioning normally. There are certain things that can be done to raise the urinary creatinine level.
Avoid drinking alcoholic beverages. Alcohol interferes with the kidneys ability to filter creatinine from the blood. If you refrain from drinking alcohol, you eliminate its effects on the kidneys and the creatinine level in the urine should increase as a result.
Cut back on your water consumption during the 24 hours prior to providing the urine sample. Excessive amounts of water will dilute the urine, reducing the amount of creatinine per unit of urine. By cutting back on water, less urine is produced but the same amount of creatinine will be cleared from the body by the kidneys, which means there will be more creatinine per unit of urine.
Vigorous exercise will increase muscle mass which in turn will increase creatine.
Eat a proper diet if you have kidney problems. It may help the kidneys function better which in turn will increase the amount of creatinine in the urine. Creatinine level is not directly affected by diet, however, proper functioning of the kidneys is affected by diet.
Stop taking medications that have a negative effect on the kidneys' ability to clear creatinine from the blood. Consult with your doctor before stopping any medications.