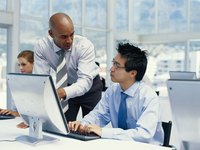 Starting a nonprofit takes a bit of red tape but is well worth the effort. Nonprofits are better positioned to provide needed services to communities and to raise money to do so. Nonprofit ESL programs can serve a multitude of populations too--children, adolescents and adults. Deciding which population to serve and what services will be provided are the crucial first steps.
Things You'll Need
PC or Mac
Internet access
Develop a mission statement. A mission statement communicates a general purpose for the nonprofit--what it can hope to achieve, why it formed, what issues it hopes to address or problems to solve. Be very clear about the ESL population you'd like to work with and help–young children, adolescents or adults.
Develop a plan of action. Include the kinds of services to be provided, such as professional development for ESL teachers, or work with students in after-school programs or in-home tutoring. Define in detail what and who will be involved and what resources will be drawn from.
Form a board of trustees or board of directors. Include those who are in agreement with your mission statement. A board of directors can range from four members to a dozen. Consider a mix of ESL interests–those with teaching backgrounds, administrators, social workers, community members and ESL adults.
Decide on a name for the nonprofit and register it with your Secretary of State, whether you incorporate or not. This can often be done online. If you decide to incorporate, file for articles of incorporation here as well
Establish some bylaws, as you would for any business. The bylaws will detail and clarify aspects of general business to include operating procedures, roles and responsibilities of directors and other officers, meeting rules and procedures, disbursement of monies raised and anything else regarding important matters of governance and in working with ESL clientele.
Apply for nonprofit status from the Internal Revenue Service. This can take three months to a year, so be patient. Forms for filing can be found on your state government website or go to http://www.IRS.gov/charities/article/0,,id=96109,00.html Apply for a sales tax exemption while you are there and register with your state's charity registration office for future fund-raising. The National Association of State Charity Officials can help with this at http://www.nasconet.org/agencies .
Start networking. Join some ESL national and regional associations, such as Teachers of English to Speakers of Other Languages, Inc. (www.tesol.org) or Center for Applied Linguistics (www.cal.org). Present workshops and symposia at conferences or showcase your organization by renting a vendor's booth.
Now that you're a nonprofit, you can apply for funding. Subscribe to a database of foundation listings, such as www.foundationcenter.org, or conduct a grants search on the Internet by going to your State Education Department website. There are always pools of money available for ESL programs, both government and foundational.