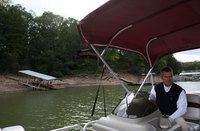 Most everyone has seen the pictures of a pontoon boat floating through the Everglades as the tourists look for alligators. And what are the sightseers usually doing as they peer over the sides? Holding onto an aluminum railing. In addition to heavy use, aluminum railings on pontoon boats occasionally have to be repainted because of the weather and repeated exposure to water.
Things You'll Need
Bucket
Hose
Water
Detergent
Sponge
Painter's tape
Tack cloth
Drop cloth
Paint brush
Metal paint primer
Marine paint
Hose down your aluminum railing with a hose. Pour some detergent into a bucket of water until the water becomes sudsy. Scrub down the railing with a sponge dipped in the bucket.
Rinse off the railing again. Allow the railing to completely dry in the sun.
Use a tack cloth to wipe the entire railing. A tack cloth will help the paint primer stick to the railing.
Place drop cloths (or tarps) on the surface of the pontoon near the railing. The cloths will protect the boat from paint that splatters.
Brush an aluminum oxide primer on the railing with a paint brush. Give time for the primer to dry.
Brush on a marine water-resistant, oil-based paint to the railing within two days of applying the primer.
Allow the railing to dry. Add a second coat of paint if necessary.