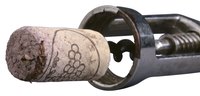 Many travelers like to enjoy a glass of wine when they reach their destination. However, if you are traveling to an unfamiliar city, finding a bottle of wine you like can be difficult. Also, hotels tend to charge a huge markup on their wine. The solution to these problems is to bring your own wine for enjoyment at your destination. Since wine bottles are fragile and can stain clothing, you must take care when packing wine in a suitcase.
Things You'll Need
Wine bottles
Old athletic socks
Old T-shirt
Large plastic bags
Packing tape
Shoes and clothes you are taking on vacation
Place each bottle of wine inside an athletic sock. Then wrap each sock tightly in a T-shirt.
Place the wrapped bottles into the large plastic bag. Get as many bottles as you can to fit in each bag as this will help keep them secure.
Fold over the top of the bag and secure it with packing tape. This will help keep the wine from getting onto your clothes should a bottle break.
Open the suitcase. Place shoes and other hard, heavy items in the "bottom" of the case — the part that is at the bottom when you are transporting it, usually where the wheels are.
Place a layer of soft clothing on top of the shoes. Place the wine bag in the center of the suitcase with it oriented so the bottom of the bottles face the bottom of the case.
Fill in the space in front and around the wine bag with the rest of the clothes you are packing and make sure the bag is secure. Close the suitcase and give it a slight shake to make sure the wine bag is secure.