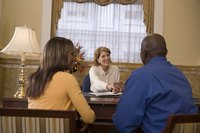 Bank reconcilations are basic but essential control processes that ensure accurate accounting for financial transactions. In business, bank reconciliations should be performed regularly for each bank account to identify errors and irregularities with cash.
Preparing a bank reconciliation for a business is a simple process, the same as that used for personal bank reconciliations but with more transactions. A reconciliation involves comparing transactions on the bank statement to records maintained by the business, and researching and resolving differences.
Things You'll Need
Bank statement
Business records of bank transactions
List of outstanding checks, other debits, deposits and other credits
Bank Reconciliation
Record the bank account name, account number and reconciliation date at the top of a clean sheet of paper or in a spreadsheet or prepared reconciliation form.
Record the ending balance per the most recent bank statement.
Add any deposits in transit. Principles of Accounting.com defines deposits in transit as deposits and other amounts recorded in the company's records that are not reflected on the bank statement.
Subtract checks and other disbursements recorded in company records that are not reflected on the bank statement. The remaining number is the adjusted bank balance.
List the ending bank balance per the business' records on the same sheet of paper.
Add interest and other items credited to the bank account that are not reflected in the company's records.
Deduct bounced checks and other disbursements included in the bank statement but not reflected in the business' records. The remaining number is the adjusted cash balance per the company's records.
Compare the adjusted bank balance and the adjusted cash balance per the company's records. The balances should agree. If they do not, review the bank statement for unfamiliar items such as out-of-sequence checks, missing deposits or deposits that may have been directed to your account in error. Research the company's records for duplicate check or deposit entries, transactions recorded in the wrong account records or errors in recording entries.
Use identified errors to update the reconciliation and compare balances again.
Prepare debit and credit journal entries to adjust the business' records for items reflected on the bank statement that are not included in the company's records, including interest received, banking fees or bounced checks.
Sign and date the bank reconciliation for the business to indicate your accountability for preparing it.
Pass the reconciliation to your supervisor for review and approval.