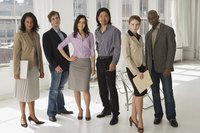 Clear and measurable performance standards are extremely important when evaluating and documenting employee performance. Performance standards provide the employee with clear guidelines, and they provide you with a vital performance management tool. When evaluating employee performance, you must also follow established company policies and procedures. The combination of performance standards and company policy helps to alleviate inconsistencies in employee management and protect your company against wrongful termination lawsuits.
Company Policies and Procedures
Implement clear company policies and procedures prior to beginning any course of employee evaluation or discipline. Ideally, your company policies and procedures should clearly outline expectations, but must be flexible enough not to box you into a corner.
Ensure that your policies and procedures are not too restrictive. Restrictive policies may not allow enough flexibility to run your business. For example, stating that an employee WILL be terminated for violating safety procedures does not allow flexibility for unforeseen circumstances.
Introduce new employees to your company policies and procedures immediately. One of the best ways to communicate your policies is to merge them into a comprehensive employee handbook.
Continually remind employees about your organization's policies and procedures during informal and formal performance reviews, ongoing training sessions, commendations, and disciplinary action.
Evaluating Performance
Using measurable factors, review your employee's performance regularly and consistently. Measurable factors are generally quantifiable and objective, such as how many customers the employee serves per hour.
Utilize employee performance reports. For example, many organizations now have software that allows a manager to print reports on employee metrics such as attendance, sales, customers per hour, and many other customizable factors.
Observe the employee's work performance personally whenever possible. Reports can give you quantifiable data, but it is also very important to directly observe the behavior.
Remember that documentation is crucial when preparing to discipline an employee for unsatisfactory work performance. In addition, detailed documentation is vital should you need to terminate an employee.
Corrective Action and Discipline
Communicate the information to the employee. During disciplinary sessions, remind her of any pertinent policies, procedures, or behavior expectations.
Encourage the employee to ask questions. Ensure that she understands the policy, procedure, or behavior expectation in question.
Ask the employee what you can do to help her succeed. For example, can the problem be solved with additional training?
Document the disciplinary action meeting. If you issue disciplinary action, ensure that it is signed by the employee and added to her personnel file.