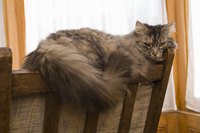 If your cat has been diagnosed with feline arthritis, chances are your veterinarian has prescribed prednisone to treat the illness. Prednisone is an anti-inflammatory steroid; it can treat allergies, arthritis or other types of inflammation in cats or humans. Always follow your veterinarian's instructions for treating your cat with prednisone or any other drug. In general, there are a few steps you should take when treating your cat with prednisone.
Give the prednisone with food, and provide plenty of water for your cat to drink. You may even wish to crush the prednisone pill or hide it in your cat's food so she will be sure to eat it. Do this as often as prescribed by your veterinarian.
Give a missed dose as soon as you remember, unless a full day has elapsed. In that case, skip the missed dose but get back on schedule with regular dosage as soon as possible.
Monitor your cat for symptoms of an overdose. According to vetinfo.com, these symptoms might include "panting, vomiting, increased thirst, unusual weight gain, diarrhea and increased urination." Call your veterinarian if your cat experiences these symptoms.
Watch for side effects. You do not necessarily need to call your vet in this case, unless the symptoms become severe. Side effects as a result of taking prednisone include excessive hunger, hair loss, aggressive behavior and skittishness.