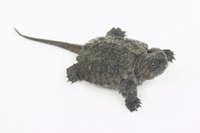 Snapping turtles can be fun and rewarding pets for the owner who is aware of what they're getting. Snapping turtles typically have long lives, averaging 30 to 40 years, and can be aggressive. Snapping turtles should not be mixed with other turtles since they can attack them. These are not affectionate pets and might mistake your fingers for food. While this may sound daunting, there are turtle lovers out there. If you're trying to get rid of a snapping turtle, you can find it a good home with some work.
Create an advertisement for your snapping turtle. Include pictures of your turtle, your turtle's age, size and relative health. List items that will come with the turtle. Are you selling the tank and accessories or only the turtle?
Research pet stores in your area, including the place where you purchased your snapping turtle. You might be able to sell it back to a pet store. If the stores aren't interested, they may have bulletin boards where you can post an advertisement.
Call veterinarians in your community. Some vets specialize in reptiles and amphibians and may be interested in your turtle. Ask if you can leave an advertisement at the vet offices.
Research turtle owner groups, reptile shows and other such events in your area. Provide your contacts with copies of your listing and answer any questions they have.
List your snapping turtle in an online marketplace. You might try local marketplaces first, since you don't want to have to ship the turtle. Chelydra.org is a snapping turtle ownership site with an online forum; post your information at that site and others you identify.