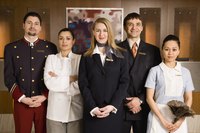 A performance review allows you to speak with your employee concerning how well or how bad he is doing within your company. During the review, not only do you speak to the employee, but he also gives feedback. Once the review and conversation has taken place, it is imperative that you document the review appropriately. By doing so, there will be an accurate track record of the employee's performance, which is important should litigation ever arise.
Avoid waiting to document the performance review and conversation. By documenting the information immediately following the review, you can easily recall everything that was said during the review. If you wait, you are more prone to forget.
Write down every important detail that was relayed by you to the employee. For example, you can write, "I advised the employee that his quality assurance and customer service scores were below average. Advised the employee that his attendance record has placed his job future in jeopardy. Advised employee that three more absences will result in termination."
Document everything the employee says to you during the review. For example, "The employee stated that he will focus on improving her quality assurance and customer service scores. Employee stated she needs more training in the area of customer service. She understands that her job will be terminated if three more absences are obtained."
Have the employee sign and date the performance review. The employee's signature is evidence that he is aware of the review and the performance areas that he needs to improve.
Store the performance review inside of the employee's file. This will allow you to easily access the review to make updates to the employee's performance improvement or lack thereof.