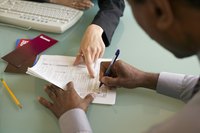 One of the most important benefits of operating a business is the ability to deduct many types of expenses. Exactly how you write off the expense for sign advertising depends on the form of your business. Expenses that are the ordinary and necessary costs of doing business, including some advertising, can be deducted. Extraordinary expenses might not be deductible, though an advertising expense need not be indispensable to be deductible.
Use Form 1120 for a corporation. Enter your advertising costs on Line 22 of Form 1120 if your business is incorporated. Keep in mind, however, that you are not able to deduct costs of starting up your business, which includes advertising conducted before you actually began business operations.
Use Form 1065 for a partnership. Enter your advertising costs total as "Other deductions" on Line 20 of Form 1065, and attach an itemized statement detailing these deductions. The same restrictions on advertising deductions for corporations apply to partnerships.
Use Schedule C for a sole proprietorship or self-employment. If you operate a sole proprietorship or are self-employed, enter your total advertising costs for the year on Line 8. Be sure to include only sign advertising costs that are an ordinary part of conducting business and which occurred after opening your business.