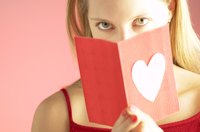 There is always an opportunity to acknowledge a birthday, send a thank you, say happy holidays, or simply "I Love You." Whether you're considering developing a large scale mass-produced greeting card line or a novelty, hand-made greeting card line, the printed greeting card business is here to stay. The demand for printed greeting cards has not been stifled by the advent of the electronic greeting card. According to the Greeting Card Association (GCA), Americans exchange approximately 7 billion greeting cards, with the average person receiving about 20 cards annually.
Things You'll Need
Paper
Scissors and Cutters
Glues
Colored Pencils and Pens
Rubber-stamps
Computer with graphic design software
Printer
Visit the greeting card sections at bookstores and gift novelty shops to study the variety of greeting card lines currently being produced. While everyone has a birthday and the number of opportunities to send greetings is large, there are a growing number of niche markets.
Develop the greeting card line. This will include either drafting the traditional prose-based greeting message embellished with simple pictures or developing creative concept greeting cards that are less about words and more about computer-generated designs. Additionally, some greeting card companies have added card lines with audio chip sounds.
Purchase tools and materials for creating the greeting cards. Greeting card designers generally need a computer and printer, graphic design software, colored pencils, markers, pens, scissors and assorted drafting and card-stock paper.
Secure venues for the sale of the greeting card line, such as local gift shops, bookstore, and stationary stores. Alternatively, the greeting card line may be marketed to a larger greeting card company who will handle distribution under contractual terms with the original greeting card line creator.
Market the greeting card line. This will include establishing a website. Other marketing and sales venues include arts and crafts shows, book shows, and expos.