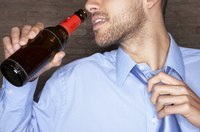 Alcoholism is noticeable to everyone except the addict himself. Between denial, habit and the inability to see himself from the outside, it is very hard for an alcoholic to take the first step toward recovery and to admit that he has a problem. Until that happens, he will never get treatment. In the meantime, he poses a dangerous risk to himself and to others. Even if an alcoholic refuses treatment, there are steps that can be taken to have him committed for treatment.
Determine what state the alcoholic lives in. The laws for involuntary committal vary from state to state.
Find a lawyer to represent you in the hearing. Thirty-seven states and the District of Columbia all allow for some form of involuntary committal for mental illness. In order for the court to find for involuntary treatment on either an inpatient or outpatient basis, it must find that the person who will be treated is mentally ill and is a danger to herself or others.
Get a doctor who will certify that the alcoholic is mentally ill and a danger in his opinion and have him testify or supply an affidavit. Most states require this kind of proof of mental illness. Substance abuse, including alcohol abuse, is defined as an illness in the Diagnostic and Statistical Manual of Mental Disorders, 4th Edition of the American Psychiatric Association.
Discover if she has been in treatment before. Hawaii requires a person to have received prior unsuccessful treatment before agreeing to involuntary treatment.
Find out if there is an additional mental disorder if he lives in Kansas, as substance abuse must be accompanied by a mental illness in order for the court to agree to involuntary treatment.
Determine if she lives in one of the seven states that recognize alcoholism or substance abuse specifically as a condition that would qualify for involuntary commitment if the alcoholic has a documented addiction and refuses treatment. This leaves no gray area to be interpreted by the court over whether alcoholism is a mental illness in order to involuntarily commit.
Look into an intervention if you are not in one of the states that allows for court-ordered involuntary treatment. Interventions conducted and moderated by a professional interventionist are successful at convincing people with alcohol and drug addictions to get treatment.