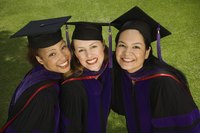 When your federal student loan is in default, it's a clear sign that you're finding it impossible to meet your obligations to repay the debt. One way to get the loan out of default is to consolidate it with the rest of your student loans, resulting in a single payment at a fixed rate. This isn't an instant solution, however, and you'll have to take some positive steps before your defaulted loan is eligible for consolidation.
Start Making Payments
A direct consolidated loan carries a fixed interest rate that won't change over the life of the loan. That rate is determined by calculating the weighted average of interest rates on all the loans being consolidated, rounded up to the nearest one-eighth of a percentage point. To consolidate a student loan in default, you'll need to make arrangements with the Department of Education first. You'll have to make a set amount of on-time voluntary payments -- usually at least three – for the consolidation to be approved. If you have a Perkins Loan, contact your school for information on how many payments it will take for that loan to be eligible for consolidation.
Explore Payment Plans
You also may be able to qualify for a consolidation loan in default by agreeing to pay the loan servicer under the Income-Based Repayment Plan, Pay As You Earn Repayment Plan or Income-Contingent Repayment Plan. All three tie payment amounts to your discretionary income, defined as the difference between your adjusted gross income and 150 percent of the poverty guideline for your family size and state. These can start with smaller payments that rise over time along with your income.
Go Online to Apply
Apply for a direct consolidated loan by going to the StudentLoans.gov portal. Sign in using your Social Security number, the first two letters of your last name, your date of birth and your federal student aid PIN. Once there, you can apply for a consolidation loan online or download a paper application and submit it by mail.
Fill Out the Application
When filling out the online application, you'll have to complete several steps to finish the process. Choose which loans you want to consolidate and the servicer to work with. Select your repayment plan. Read the terms and conditions, and confirm your borrower and reference information. Then review and sign the form. At that point, whichever consolidation servicer you selected completes the process of consolidation. Keep making your scheduled loan payments until you receive word that the consolidation has taken effect.
Private Student Loans
Private student loans are not eligible for consolidation. Rules for how to handle a default, such as ways to get the account current or mitigation strategies if you're experiencing financial hardship and can't make payments, are detailed in the loan agreement you signed when you borrowed the money.