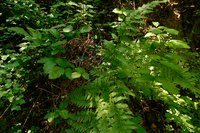 Getting contact dermatitis from poison oak can be a reminder of your summer vacation you would rather forget. The urushiol oil from the plant is the culprit and is responsible for unhappy campers in every state in the U.S. except Hawaii and Alaska. While 85 percent of the population is allergic to the oils, some people have reported immunity to the plant's ill effects, including Native Americans in Northern California. They used the stems of the oak to weave baskets.
Consider taking a homeopathic treatment to develop immunity to poison oak. There are products available online, such as Oral Ivy and Hyland's Poison Oak/Ivy Tablets, that promote immunity through the ingestion of small amounts of toxic plants. In the 1980s, a shot was offered to desensitize patients to poison oak, but the side effects outweighed any benefits and it was taken off the market.
Eat your way to immunity by actual ingestion of the first green leaves of the plant in the spring, according to Randal Jones in the magazine "Wilderness Way." Find a young plant and eat one tiny leaf each day. As they grow, you'll be eating larger leaves until you're eating a full-sized leaf by week four. Supposedly the mucous membranes on the inside of the mouth will keep you from developing blisters there, but you must be sure to avoid skin contact on the face and lips. It is recommended that you contact your physician before pursuing such a regimen.
Remember that the best way to protect yourself from poison oak is to avoid sensitizing your skin to the oils. In many cases, repeated exposures to the plant's oils via the skin escalate the severity of each subsequent bout of dermatitis. Wear long-sleeved clothing when hiking in an infested area, avoid petting or touching household animals that have been in poison oak, and wash all clothing separately that has any urushiol oils on it.