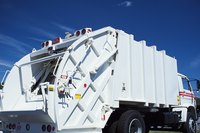 Learn how to make several hundred to several thousands dollars when removing trash from real estate owned (REO) foreclosures. With today's market, finding REO foreclosures that are in need of trash removal is easy. When foreclosures are reverted back to the lender or bank, this gives REO trash removal businesses the opportunity to jump in and make a profit. Many foreclosures are left in extremely bad condition needing trash removed, cleaning, and minor repairs. Removing trash and debris from foreclosures can be a profitable business with the proper knowledge.
Things You'll Need
Truck or Access to a Rental Dumpster
Establish Services
Write down exactly what services you will offer your clients. Consider offering other services as well as trash removal such as carpet cleaning, floor maintenance, cleaning of the entire home, and window cleaning. Also consider offering additional services such as minor repairs of walls, window replacement, minor painting, changing locks, lawn care, pressure washing, and gutter cleaning.
Determine your fees. Charge $75 per yard for debris removal, this covers labor and dumpster charges. If you are cleaning beyond the removal of the debris, consider charging .10 per square foot for general cleaning. For any repairs and replacements, charge the cost for materials, times two and a half.
Prepare to remove trash. In order to successfully operate an REO trash removal business you need to have the proper equipment and materials. Call local waste management services and obtain a quote for an average 5 yard dumpster; obtain a dumpster for the removal of debris. To do a general clean up, bring a vacuum, cleaning supplies and rent a local carpet cleaner to begin work.
Market your Services
Banks work with agents and brokers to sell their REO properties. Find these types of brokers and agents in your local real estate magazine, real estate directories, local newspapers, or simply by driving though your local neighborhoods. Foreclosures are typically easy to spot as they generally have overgrown grass, look unmaintained, and are abandoned. Usually with these types of properties there is a real estate agent's sign visible. Contact the agent or broker and them know you are available for removing trash at an affordable rate and ask to bid the job.
Broaden your client base, call all your local property management companies and offer them your REO trash removal services. Offer a free estimate and let them know that having trash removed from a foreclosure can aid in renting or selling the property.
Prepare fliers and leave on houses. Prepare a simple flyer using any word processing software. List your REO trash removal services and your phone number for potential customers to call for a bid. Leave fliers at the homes that have obviously been abandoned when you have been unable to make contact with anyone. Spend a day or two driving around the local neighborhoods searching for these homes.
Get the appointment and make a bid. After you have successfully made contact with the agent or broker offer a free estimate for the project. When doing a walk-thru and making your bid, take digital pictures to show the extent of the work that has to be done. Remember to take after photographs as well; you need these in order to show the client the work that has been done.