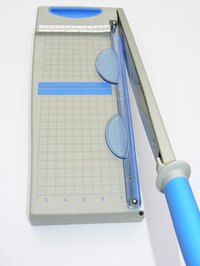 Guillotine paper cutters, also called stack cutters, feature a manual lever with a straight blade that can cut through several layers of paper at one time. Guillotine cutters are named for the execution device used during the French Revolution, due to its vertical, angled blade. These devices are simple to use, though their sharp blades do present a hazard. To reduce the risk of injury, modern guillotine paper cutters incorporate standard safety features, which must be disabled before using.
Set the trimmer on a solid, flat surface.
Press and release the blade latch, which is usually located on the underside of the blade's hand grip.
Raise the blade to about a 65-degree angle.
Align up to 30 sheets of paper under the paper clamp, which is located directly next to the blade arm, using the guillotine cutter's built-in grid marks as a guide.
Secure the paper by holding the paper clamp with one hand and push down on the blade arm to cut through the paper.
Lock the blade arm when you are finished.