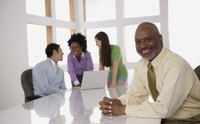 They look over your shoulder, interfere with directives, confuse communication and second-guess your every decision. Working for a micromanager can be stressful, at best. At worst, you could be driven to the breaking point and start looking for work elsewhere. Micromanagers are often unaware of how their behavior impacts those around them. By taking some practical steps, you can apply proven techniques that will limit frustrations and possibly improve your working relationship with your boss.
Things You'll Need
Be assertive in your communication. Because the micromanager is frequently unaware of the consequences or impact of his actions, clear but respectful communication is required to help establish boundaries. Suggest to your boss that you'd like to be given a chance to do the work on your own. Offer to take whatever steps are needed if he finds shortcomings following your independent effort.
Ask what you are doing wrong and how you can improve. A micromanager may reference a previous time when you failed in the execution of some aspect of your job as an excuse for her to remain involved in your task details. If this is the case, ask for additional training if needed. Otherwise, if your supervisor states she is happy with your work, respectfully communicate your sense of being mistrusted to execute your assignments and your need to work more independently.
Turn his management style back on himself. Stop resisting his need to be involved in every detail. Invite him into the minutiae of your daily tasks. Rick Brenner of Chaco Canyon Consulting says, "Most micromanagers don't want your help with their micromanagement. Work on changing your own experience instead." If your boss gains self-esteem by detailed involvement, esteem him by consulting him on every detail. He may view your cooperation with his management style as worthy of a higher degree of trust, and begin releasing tasks back to you.
Document her behavior. If your boss doesn't respond to the previous steps, you may have to go into a defensive posture. Send follow up e-mails to your supervisor stating your understanding of the assignment and deadline. Request a reply if clarification is needed. Micromanagers frequently communicate additional tasks inconsistent with original directives as they needlessly immerse themselves in details. Documentation can be useful in illustrating your boss's micromanaging tendencies should you decide to bring their behavior to the attention of the company human resources department.
Begin your search for a new job. Taking your concerns to HR can backfire. The only proven long-term solution is to seek work with someone who doesn't micromanage. If transferring to another department or manager is not possible, polish your resume and begin your exit strategy.