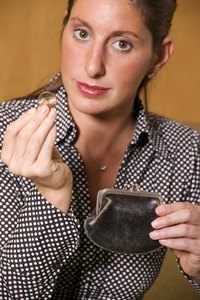 When you live above your means, you are spending more money than you bring in and relying on credit to help you get by. If the frugal way of thinking -- living better and spending less -- were easy, everyone would succeed. However, there are steps you can take to provide you with a comfortable life while living beneath your means. Spending less adds up to more savings and a healthy financial outlook.
Restrict buying on credit and avoid using credit cards as much as possible. Save up for large purchases, rather than getting a loan or using a credit card -- both mean you will be paying more for your purchase due to interest. Also, pay off high-interest credit cards, or move your balances to cards with lower rates.machine takes its last breath or the car breaks down.
Eat simply. Purchase more natural, non-processed foods -- fruits, vegetables and grains -- and prepare your own meals. Eating out often can drain your wallet, so go out only as an occasional treat. Pack your lunch for work.
Use the Library. E-readers are fun gadgets, but you can save plenty of money by checking out the same books from you library for free. You also can get audiobooks, popular DVD's, CDs and magazines. Most libraries also have story hours, book clubs or family-friendly entertainment.
Patronize consignment and thrift stores. These shops carry brand-name goods -- some even have their original tags still attached -- for a fraction of the cost. The key is to be flexible in what items you need and want. Also, don't get hung up on certain name brands.
Buy a 2- or 3-year-old car, rather than new, and keep it in good repair. Many Americans are hung up on buying new cars, but they depreciate in value quickly.
Sign up for coupon websites, email and blogs. Sites all over the Internet will tell you the deals at competing stores -- such as CVS, Walgreens, Target and Walmart stores. Some blogs will even do the work of couponing and finding deals to get free items or cash-back offers.
Develop or revisit low-cost or free hobbies to save money on entertainment costs. Reading, gardening or hosting game nights are some ideas. Going to the movies is expensive, but when you really want to go out, can take advantage of discount days or early movie deals.