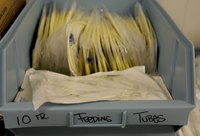 A person who is unable to eat on his or her own may be fed through a tube to maintain optimal nutritional status. Tube feedings may be short or long term, and the feeding tube may be introduced into the body via the nostrils or abdominal area. A person being tube fed may get intermittent, bolus or continuous feedings. An infusion pump is used to provide continuous tube feeding.
Things You'll Need
Tube feeding bag
Tube feeding formula
Tubing
Gloves
60 ml catheter tipped syringe
Stethoscope
Water
Intravenous (IV) pole
Feeding pump
How to Run a Feeding Tube with an Infusion Pump
Remove the formula from the refrigerator to let it warm up to room temperature, and check its expiration date.
Wash your hands, and put on your gloves. Sit the patient up at a 30 to 45 degree angle to prevent aspiration. Draw up 30 ml of air into the syringe, place your stethoscope over your patient's stomach, and inject the air into the feeding tube while listening with your stethoscope. If you hear a whooshing sound, continue with the feeding, but if you hear a burp, do not feed the client because the feeding tube may not be in the stomach.
Check how much residual feeding is left in your patient's stomach. After injecting 30 ml of air into the feeding tube, pull back the plunger of the syringe. Measure the amount of residual you get with the syringe. If it's less than your hospital's recommended residual, go ahead with the feeding. If it is over the recommended value, withhold the feeding. Return all residuals back to your client's stomach through the tube.
Fill the formula bag with four hours' worth of feeding, and hang it or hang a ready-to-hang formula bag on an intravenous (IV) pole. Flush the feeding tube with the ordered amount of fluid, then connect the feeding tube to the formula bag and then the infusion pump per the manufacturer's instructions.
Select the prescribed flow rate for the formula from the pump, then select the prescribed volume as well. Make sure they match the rate and volume prescribed by the physician. Push the start button to begin the flow of feeding.