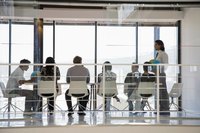 Role-playing is a version of make-believe where the players put themselves in the mindset of characters and act out a scenario. Role-playing can also include games for young kids or video game players. In the business world, role-playing is used by supervisors to train new employees, or prepare experienced employees for circumstances they might encounter while out in the field. Having employees role-play various scenarios can help supervisors easily determine which employees are ready for the job, and which ones more training.
Set up a situation that the person you're training will encounter. Start off with simple issues the role-player would encounter in an average day. If you are training employees for a job in sales, set up a normal presentation with the client and salesperson.
Set up a scenario that is unexpected, maybe your employee does not have the necessary tools, and must improvise, or maybe the customer or client he is dealing with is being less than cooperative.
Give the role-player time to react to the situation. Although in a work environment reaction times must be quick, give the role-player enough time to calmly analyze and react. Watch carefully how he acts so later you can point out his mistakes.
Resolve the initial problem and continue. Once you have played out all scenarios, provide feedback to the trainee letting him know about his strengths and weaknesses. Teach him how he should have reacted to the situation, or made a better decision.