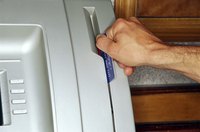 Criminals have found ways to obtain consumer's private bank information by installing skimmers and small hidden cameras at ATMs worldwide. The skimmer is a small electronic device that is used to capture a victim's information--such as card number, name and expiration date. Before making a transaction at an ATM machine, consider these tips to avoid having your funds and information stolen.
Pay attention to your surroundings. Look around and watch for anyone suspicious-looking that may be observing your actions. They could be waiting inside a car or standing nearby.
Check around the mirror and surrounding area for any small hidden cameras. Criminals use the hidden cameras to capture the victim entering his bankcard PIN number. Criminals will make a copy of your bankcard by using a credit card encoder, which can be easily purchased online. The newly made card is used to make future withdrawals.
Pay close attention to the ATM card slot to check to see it appears out of the ordinary. The skimmer is inserted into the card slot at the ATM machine to capture the bankcard number. The bankcard number is obtained and stored onto a microchip located inside the skimmer. Pull at the area around the card slot to see if it is loose or comes off. If you slide your card through the card slot and it appears resistant, it could be hacked. Call the local police immediately if the area around the slot comes off.
Use ATMs at stores that stand alone. These ATMs are usually harder for criminals to hack and add skimmer devices because they are located in heavily populated areas.
Ask your bank if any skimming instances have occurred at their institution. Find out if your bank uses the ADT Anti-Skimming Solution, which was created to help prevent criminals from hacking into ATMs worldwide.