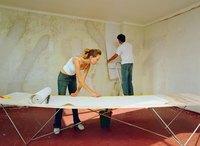 Withdrawing funds from your 401(k) plan for house construction will incur taxes and penalties if you haven't reached age 59 1/2, but you might be able to leverage your 401(k) savings with a loan. Not all plans permit loans, but those that do can allow you to borrow up to $50,000 or half your vested account balance, whichever is smaller. You then make repayments from your paycheck for up to five years. There's no limit on what you can use a 401(k) plan loan for, so home improvements are fair game.
Loan Request Form
To take a loan from your 401(k) plan, complete a loan request form and submit it to your 401(k) plan administrator. The forms vary slightly from plan to plan, but generally require your name, account information, how much you want to borrow and how long you want to take to repay the loan -- up to the maximum of five years.
Tax Implications
Taking out a 401(k) loan won't have any immediate tax consequences, because from a tax standpoint it's no different than taking out a loan from a bank. However, if you leave your job, you have to repay the remaining balance off at that time. If you don't, the remaining balance counts as taxable income and, if you're under 59 1/2, is hit with a 10 percent penalty on top of ordinary income taxes. In addition, while you have the loan outstanding that money isn't invested, so you could miss out on gains in the market.