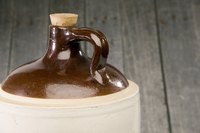 Apple cider vinegar is a "naturally occurring antibiotic and antiseptic that fights germs and bacteria," according to Bragg Health Products, and has innumerable topical and internal uses. One such use is for the treatment of shingles and chicken pox. Both diseases are caused by the same herpes virus and their itching symptoms can be soothed with apple cider vinegar.
Things You'll Need
Raw, organic apple cider vinegar that contains "the mother" (see Tips)
Cotton balls
Topical Application
Soak cotton ball(s) with apple cider vinegar.
Gently apply the cotton ball(s) to affected areas and allow to soak in.
Repeat as necessary until symptoms disappear.
Bathing
Fill your bathtub with warm water.
Measure a cup of apple cider vinegar and add to the water.
Soak in the tub for soothing relief.